The Lunar New Year is a big celebration across Asia, and in Vietnam, it's known as Tết. To honour the importance of starting fresh with good luck, Ninja Mart organised a lucky draw programme for our retail partners in Vietnam during the week-long Tết holidays.  
Ninja Mart's Lucky Draw Programme
In the lead up to the Tết holiday, we conducted 3 live streams on Facebook to raise awareness and generate excitement for the event among store owners. 
Ninja Mart's salesmen also had clear communications on the event through distributed flyers during their weekly store visits across 30 rural and urban Vietnamese regions. During the activation phase, store owners could accumulate lucky draw chances based on the orders they made through Ninja Mart's salesmen or Ninja Biz, our mobile app.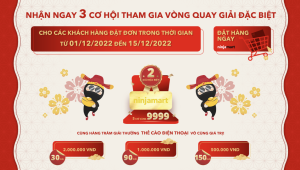 In total, there were 272 winners, 2 for the Grand prize, 30 for the 1st prize, 90 for the 2nd prize, and 150 for the 3rd prize. Our prizes ranged from mobile phone top-up cards worth 700k VND to gold for our Grand prize winners, a symbol of freedom and wealth in Vietnamese culture. Mini games were also played during the break in the lucky draw live stream before the final draw for customers to enjoy even more rewards!
During our market visit on 7 February, our local salesmen paid a special visit to the Grand prize winners, Mrs Loan of Bình Phước province and Mrs Linh of Bạc Liêu province. Here's what they had to say:  
Mrs Loan
:
"Ninja Mart's sales representative's clear explanation of the Lucky Draw programme made me very interested to participate. Even though I knew the chance of winning the Grand prize was slim, I was still eager to order products from Ninja Mart to support them. Ever since I was announced as the Grand prize winner, I've been so happy that I can't sleep!"
Mrs Linh
:
"Ninja Mart's lucky draw programme was very attractive, increasing my motivation to accumulate spendings during the Tết activation phase. I will continue importing from Ninja Mart because of their operational support, on-time delivery, and enthusiastic sales representatives."
Here at Ninja Mart, we are grateful for the support these Vietnamese retailers have shown us, and for their participation in our lucky draw. Ninja Mart continues to support these customers even after the Tết holidays through our one-stop shop comprising products from our FMCG partner brands, mobile app for anytime ordering, and 48-hour deliveries. If you're interested in partnering with us and taking advantage of these benefits, contact us here today!